"These Flames are Cool and Refreshing"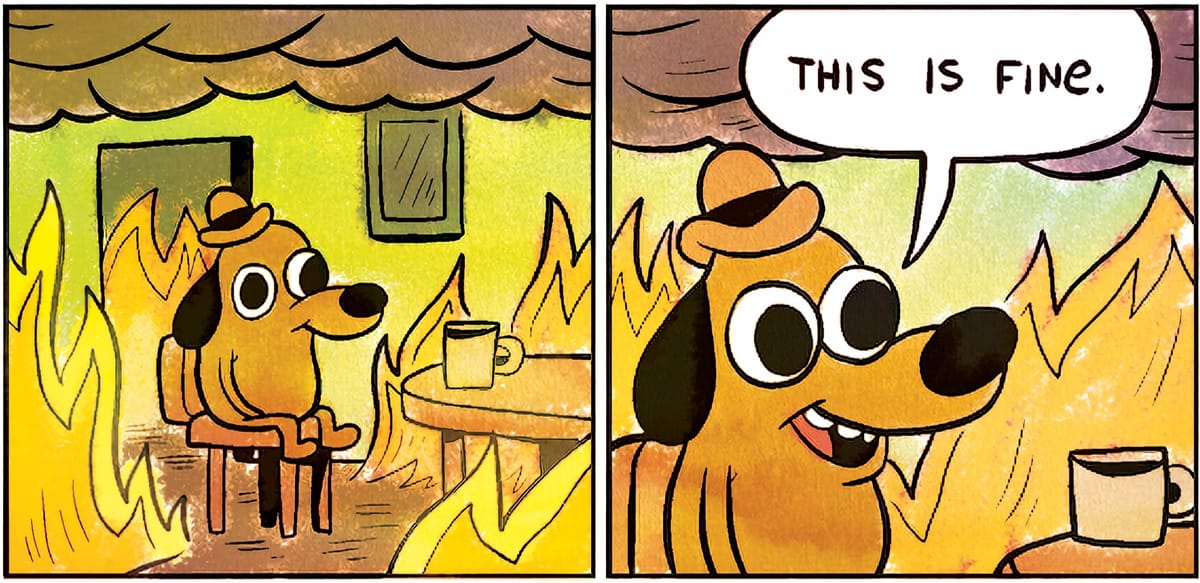 Panels from "On Fire," by KC Green.
At the beginning of 2018, BPF Board Co-President Cristina Moon moved to Chozen-ji International Zen Dojo in Honolulu, Hawaii. In the following article from Lion's Roar, she explores suffering, attachment, and how she's learning to face and act in a world on fire with violence and oppression. 
"I'm trying to learn to be fine even when there's a literal sword pointed at my throat. Before I arrived at the dojo, I felt that my ability to be the person I wanted to be depended on an optimal mix of external conditions, like sleep, food, stress, exercise,environment, and people. I spent a lot of energy managing those external conditions and blaming them when things didn't work out …
I'm learning to let go and not waste energy on my attachment to dukkha — which is often translated as "suffering", but can also be interpreted as "dissatisfaction" or "this is not how things are supposed to be." As more and more attachments are shed, including the attachment to putting attention on what's wrong, it's easier to give all of myself to whatever is critical to do right now.
When it feels like our real world is burning, we can choose to burn precious energy pointing out just how f*cked everything is. Or, we can engage Buddhism as deep spiritual training in accepting what we cannot change so we can focus with all of our might on what we can — and go for it."
For more, including the story of a 16th century Zen master's response to being locked in a burning building, go here.
Blocking Pipelines and Reclaiming Indigenous Traditions
Mayuk (left) ans Kanahus Manuel (right), founders of the Tiny House Warriors, in front of a completed tiny house on the Neskolinth Reservation outside of Kamloops, British Columbia.
Inspired by tiny homes built and used during the Dakota Access Pipeline resistance movement at Standing Rock, the Manuel sisters and other women in the Secwepemc community began constructing their own versions to use during their own pipeline resistance. Along the way, they've discovered that the tiny homes could also provide a key to revitalizing their culture.
"Since the fall, indigenous women of the Secwepemc Nation—calling themselves the Tiny House Warriors—have been constructing tiny houses that they plan to strategically place in the pathway of the proposed Kinder Morgan Trans Mountain pipeline expansion.
Our women came together to specifically address how we would launch our fight against this pipeline," said Secwepemc artist and activist Kanahus Manuel, who cofounded the Tiny House Warriors. "When we saw that we were able to build those tiny houses so fast, we came together to really develop a strategy for how we were going to fight against this Kinder Morgan pipeline coming into our land."

More than 100 Secwepemc leaders and opponents of the proposed Trans Mountain pipeline gathered outside of Kamloops, British Columbia, on Earth Day for a "Picnics, not Pipelines" event to resist the pipeline. 
"Before the Secwepemc were forced to live on designated reserves, they were semi-nomadic, traveling to different parts of their territory based on the season to harvest berries, hunt, and fish. Secwepemc women were experts at setting up and taking down camp to facilitate their hunter-gatherer lifestyle, according to Kanahus.
We were always tiny-house people. We lived in traditional underground pit houses and cedar bark lodges. It's nothing new for us," Manuel said. "We were always a nomadic people, we were hunter-gatherers in our nation. So, we said, Let's go with the tiny houses, let's go with calling it the Tiny House Warriors. It was inspired by the women in our community.
Because the houses are on wheels, they've created a modernized, efficient, and fossil-fuel free revival of their nomadic lifestyle."
Learn more about the work of the Tiny House Warriors, and the Secwepemc community's efforts to protect the land and revitalize their culture here.