Pat Bernie & Betty RIP
"Pat and Betty were among the kindest persons I knew.  Their home in Columbia was a place of peace for all peace activists". – Tony Langbehn
"Carol and I have very fond memories of Pat and Betty, who were not only exceptional human beings but also among the most dedicated peace and justice activists we have had the privilege to know and work with".  – Ron Solomon
They were long-term supporters of MUPJ.  – Paulette Hammond
"Pat is definitely resting in peace, as she was a force here and in Arizona.  I first met her when we were taking on JHU's APL.   Her home in Howard County was always available as a site to plan actions.  Her partner Betty climbed up on the roof of an APL building  and was arrested on MLK Day. It was a frigid day but not cold enough to stop that protest. Another issue which Pat took on was General Electric and its weapons contracts. She owned stock in GE and would attend shareholder meetings to rail against the weapons contracts.
Because of Betty's health, they moved to Tucson, Arizona, and I believe that  is where Betty died.  They made friends out there with Jack and Felice Cohen-Joppa, publishers of the Nuclear Resister.  After Betty's death, Pat moved back to Maryland.
She has been on my Elist forever.  The last time I saw her was in D.C. at a July 2013 climate rally in D.C.  Tim DeChristopher, who bid on land in Utah to prevent Big Oil from getting access to this federal property, spoke at the rally,  He had received a two-year sentence in 2011.
 I have many fond memories of Pat and Betty, a duo who refuse to acquiesce to injustice.  Pat, I am going to miss you, just as much as I am missing Betty." – Kagiso, Max
 Photo of Pat with one of her very close friends and peace activists here in Ho Co, Virginia Bates.
Dr. Victor W. Sidel
Remembering one of our founders, Dr. Victor W. Sidel

Dear Claudia,
We are deeply saddened by the passing of Dr. Victor W. Sidel, a co-founder and former president of PSR, and a former co-president of the International Physicians for the Prevention of Nuclear War (IPPNW). Dr. Sidel passed away on Tuesday, January 30. We extend our sincere condolences to Dr. Sidel's family and loving friends as we remember his remarkable life.
As one longtime PSR member wrote, "We live in a world that he helped mold." Dr. Sidel has inspired so many of us with his moral and scientific leadership. He paved a path for physicians and health professionals to step up and lead on the most consequential issues that our world still faces today. We are incredibly grateful for Dr. Sidel's 60 years of visionary leadership. He will always remain a source of inspiration and guidance for us in our work for peace, nuclear disarmament and health equity.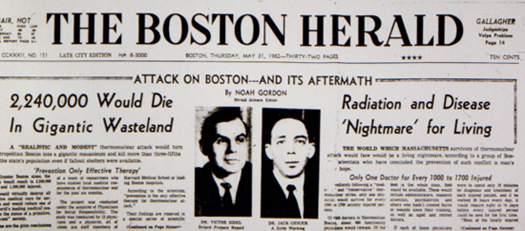 May 31, 1962 Boston Herald front page with photos of Drs. Victor Sidel and Jack Geiger, reporting on a PSR study in New England Journal of Medicine.
Dr. Sidel's career in medicine and activism planted the seeds of the peace and health equity movement. Dr. Sidel co-founded PSR in 1961. In 1962, he contributed to a series of influential articles published in The New England Journal of Medicine titled "Medical Consequences of Thermonuclear War," which detailed the catastrophic medical consequences of using nuclear weapons. The publication of these articles spurred the formation of PSR chapters across the United States.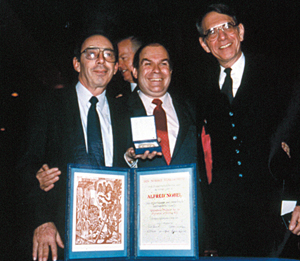 Drs. Jack Geiger, Victor Sidel, and Sidney Alexander
at the 1985 Nobel Prize ceremony.
In 1980, a group of physicians including Dr. Sidel worked to establish a global federation, IPPNW. Together, IPPNW and PSR mobilized physicians to educate policymakers and the public on the medical and environmental consequences of nuclear war. By 1985, more than 1.25 million physicians signed IPPNW's appeal. IPPNW and its global affiliates received the 1985 Nobel Peace Prize for raising awareness of the medical consequences of nuclear war. Dr. Sidel served as co-president of IPPNW from 1993 to 1998.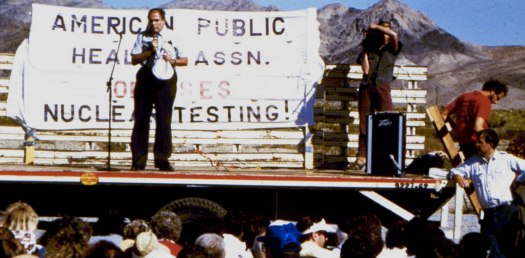 Dr. Sidel speaking at an APHA nuclear testing protest in Nevada, 1986.
Dr. Sidel later served as president of the American Public Health Association (APHA) in 1985 at the height of the nuclear freeze movement. At the 1986 APHA Annual Meeting in Las Vegas, Dr. Sidel declared the prevention of nuclear war a public health priority in an official address. He helped organize a demonstration of 400 people at the Nevada Test Site. Their civil disobedience led to a series of demonstrations by public health leaders that increased pressure on the United States and the Soviet Union to abide by a moratorium on underground nuclear testing. Following Dr. Sidel's tenure as president, the APHA adopted its first official policy statement opposing the nuclear arms race.
Dr. Sidel authored and co-authored numerous books and articles about the human consequences of war, international health, and the impact of poverty on health. He was co-editor with his longtime colleague and friend Dr. Barry Levy of two editions each of the books War and Public Health, Terrorism and Public Health, and Social Injustice and Public Health, all published by Oxford University Press. He co-authored books on health policy and on China with his beloved spouse, Ruth Sidel, who was a professor of sociology at Hunter College in New York and died in 2016.
Dr. Sidel was chair of the Department of Social Medicine at Montefiore Medical Center in the Bronx, New York, from 1969 to 1985. He then became Distinguished University Professor of Social Medicine at Montefiore and the Albert Einstein College of Medicine. He served as president of the Public Health Association of New York City (PHANYC) and on the board of directors of Physicians for a National Health Program (PNHP) and other organizations.
In 1971, he and Ruth Sidel were among the first American health professionals invited to the People's Republic of China. Dr. Sidel was the honorary Cleveringa Professor of Medicine and Human Rights at Leiden University in the Netherlands in 1998-1999. Among his other honors were the Sedgwick Memorial Medal of the American Public Health Association for "outstanding accomplishments in public health" and the APHA Award for Excellence for "exceptionally meritorious contributions to the improvement of the health of the people."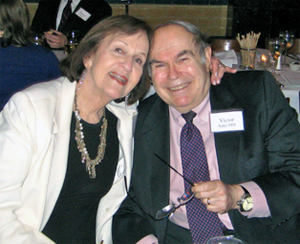 Drs. Ruth and Victor Sidel at PSR's 50th Anniversary Dinner in 2011.
Dr. Sidel is survived by his two sons and their spouses, Kevin and Inge Sidel of Elizabeth, CO; Mark Sidel and Margaret Raymond of Madison, WI; and three grandchildren, Andrew Sidel, Rosemary Raymond-Sidel, and Theodora Raymond-Sidel.
Graveside services will be held at Temple Ohabei Shalom Cemetery, 147 Wordsworth Street, East Boston, Massachusetts on February 4, 2018 at 11:30 a.m.
The family requests that memorial gifts be made to Physicians for Social Responsibility or International Physicians for the Prevention of Nuclear War.

Dr. Sidel in Colorado, December 10, 2017.
It is a privilege to be part of the movement that Dr. Sidel fostered. Dr. Sidel's profound contributions and leadership will always be a source of inspiration in our work to build a more peaceful, equitable, and just world.
Sincerely,

Jeff Carter, JD
Executive Director
Dean Pappas
Antiwar and civil rights activist who helped plan the 1968 Catonsville Nine draft board raid
"He was very outspoken, and you just couldn't help but love him," a friend said.
Dean Pappas, an antiwar and civil rights activist and teacher who assisted in the planning for the 1968 Catonsville Nine draft board raid, died Saturday of pancreatic cancer at his Mount Washington home. He was 78.
"When I came to Baltimore in 1967 to join the antiwar movement, Dean was one of the first people I met," said Brendan Walsh, a former seminarian and co-founder of Viva House with his wife, former nun Willa Bickham.
"He believed the Vietnam War had to be resisted and he was a great teacher, and for me, was a key person in the antiwar movement," Mr. Walsh said. "He had a great mind and a great way of relating to you."
"Dean was absolutely one of a kind, who taught physics but also taught life," said Tom Buck, an English teacher and Friends School colleague. "He was very political, and politics were very important to him. He was a movement kind of guy."
The son of Mitchell Pappas, an office worker, and Christine Pappas, a bookkeeper, Constantine Pappas was born in New York City and raised in Queens, N.Y.
Mr. Pappas, who was known as Dean or Dino, and never used his birth name, was a 1957 graduate of Jamaica High School.
After earning a bachelor's degree in physics in 1961 from Yale University, he moved to Baltimore, where he enrolled at the Johns Hopkins University and obtained a master's degree in physics.
Mr. Pappas abandoned the pursuit of a doctorate in physics at Hopkins to focus full-time on the civil rights movement, fair-housing issues, and working against the military junta that ruled Greece from 1967 to 1974.
He taught physics at the University of Maryland, Baltimore County, the Park School, and part-time at Coppin State University and the University of Maryland Eastern Shore before joining the Friends School faculty in 1988.
An adjunct at the Maryland Institute College of Art, he also exhibited his sculptures in faculty exhibits.
Mr. Pappas became a leader in the Baltimore antiwar movement during the Vietnam era and founded the Baltimore Defense Committee and Teachers Against the War in Vietnam.
"The 1967 march on the Pentagon was the first mass civil disobedience the antiwar movement engaged in," Mr. Pappas told The Baltimore Sun in a 1987 interview. "For a lot of us, it was our first taste of tear gas.
"In Baltimore, there wasn't much of a student movement against the war. The main antiwar activity came out of the religious community led by such as Philip Berrigan," he said.
A highlight of Mr.Pappas' antiwar activities was helping to plan the raid May 17, 1968, to destroy the files of Selective Service Local Board No. 33 in Catonsville. The raid was carried out by nine men and women, including the Rev. Daniel Berrigan and his brother, Phillip, a Josephite priest.
"Dean made the napalm that was poured on the draft files," Mr. Walsh said.
"I got the press there, the Berrigans asked me to do that," recalled Grenville B. Whitman, an activist who at the time represented the Peace & Freedom News.
"He was also highly involved in the leading the demonstrations as a result of the Catonsville Nine activities. We worked closely on that," said Mr. Whitman, a former Charles Village resident who now lives in Rock Hall on the Eastern Shore.
"He organized consciousness-raising activities in Baltimore once the Catonsville Nine trials started," said Donna Poggi Keck, an antiwar and women's movement activist, who lives in Charles Village. "He had people come and speak that were national figures, like the Rev. William Sloane Coffin."
"There was no special significance to Catonsville," Mr. Pappas told The Sun in a 2010 interview. "It was just a target of opportunity."
Two years earlier, he told the newspaper that he had abandoned the tactics of 1968.
"I think that Phil and company [spending] the last 20 years smashing nose cones on missiles and getting thrown in jail was a waste of time," he said. "I hate to put it that way, but I don't think it did much to advance the cause."
"I first met Dean in 1964 when he was teaching, and we got involved in the Poll Tax Project," said Mr. Whitman. "We got volunteers to go to polling places, and we collected money for SNCC [the Student Nonviolent Coordinating Committee] and we collected $1,000, which was a lot of money. Dean helped me the most in organizing the project."
"He was very much a leadership person who made a rather striking presence. He was large and blond and had no trouble speaking in front of a crowd. He was very courageous," Mr. Whitman said.
"His leadership qualities were outstanding and he was such a really nice man," Ms. Keck said. "He was a person able to argue without belittling his opponent or demonizing them. He reached out and tried to make connections."
In the late 1970s and continuing into the early 1980s, Mr. Pappas wrote a column, "From the Left," for the Baltimore City Paper. Subject matter included local, national and international issues, as well as Orioles baseball.
Mr. Pappas later founded the People's Free Medical Clinic and a coffeehouse and food cooperative in the Waverly area. He was active in the New American Movement and Democratic Socialists of America and worked tirelessly for peace in the Middle East.
"His activism continued on for decades," Ms. Keck said.
"He was a great keeper of left-wing actions," Mr. Whitman said,. "After the war was over, we drifted apart, but we remained friends, and he continued to speak out."
"If you wanted to kill a physics class, just ask Dean about the Catonsville Nine, the Vietnam War or the trade movement; he'd go on for a full 45 minutes," Mr. Buck said with a laugh. "He was very outspoken, and you just couldn't help but love him."
At Friends, Mr. Pappas founded the Chess Club and the Senior Work Project in 1994.
"The Senior Work Project helped seniors counter senior slump," said Heidi Blalock, Friends School's communications director and a Hampden resident. "He'd find places for them to go. They would shadow a surgeon or an FBI agent or go to a car repair shop.
"He had a big, bold personality and had so much love and was passionate about his students and his work," she said. "He lived his values, and because this is a Quaker school, he represented the founder of Quakerism George Fox's quote, 'Let your life speak.'?"
Mr. Pappas, a former Charles Village resident who later moved to Mount Washington, retired in 2008. In retirement, he became a student in Towson University's OSHER adult education program and had to cancel teaching his Great Ideas in Science course after being diagnosed with Stage 4 pancreatic cancer in August 2016.
Plans for a memorial service are incomplete.
He is survived by his wife of 34 years, Claudia Leight, a retired Morgan State University counselor; a son, Dr. Alexi Pappas of Harlem; and a brother, James Pappas of Port Lucie, Fla. An earlier marriage ended in divorce.
fred.rasmussen@baltsun.com
Lawrence Deems Egbert, Jr., M.D., M.P.H., a resident of the Hampden neighborhood of Baltimore, died of a heart attack Thursday evening, June 9th. He was the oldest and the longest-surviving of the three sons of Lawrence D. Egbert, Sr. and Lyn Forsyth Egbert. He is survived by his wife, Ellen Barfield, his five children: Louise Egbert Treitman (Rick Treitman), Lexington MA; Ruth Egbert Walker (Ron Walker), Stillwater, OK; Dave Egbert (Imane Daher), Parkville, MD; James Egbert (Peg Murphy), Eureka, CA; and Ben Egbert (Thomas Lymenstull) of Dallas TX, nine grandchildren, and three great-grandchildren. He is also survived by his former wife, Dorothy Staples Egbert, of Stillwater, OK and was predeceased by his former wife, Marcelle Hechemy Egbert. He was 88 years old.
Dr. Egbert was a retired professor of anesthesiology and public health. He earned several degrees from Johns Hopkins University and his M.D. from the University of Maryland. He was a veteran, having served both in the Army and Navy, and was stationed in Japan after the Second World War.
Lawrence was born in Champaign, IL and grew up in Washington, DC.  He was a nationally-recognized anesthesiologist, publishing several important articles about patient care and racism in the New England Journal of Medicine and the Journal of the American Medical Association. He worked at Harvard University and Massachusetts General Hospital, Johns Hopkins University and the University of Texas Southwestern Medical Center in Dallas. He also served for several years as visiting faculty at Pahlavi University Medical School in Shiraz, Iran and the American University of Beirut in Lebanon.
In later years, he became an anti-war and anti-nuclear activist, a member of the board of Physicians for Social Responsibility, and a volunteer with Doctors Without Borders. He was also strongly opposed to the death penalty and was a nationally-known expert on lethal injection. In recent years he was the medical director of Final Exit Network—an organization that provides education and compassionate presence to those facing end of life choices. He was arrested and faced multiple trials for his work with FEN. He was active for much of his life in Unitarian Universalists district governance and social change committees, especially UUs for Alternatives to the Death Penalty. He was attending a Quaker Meeting in recent years.
Lawrence has lived with his wife Ellen in Baltimore for nearly twenty years. He did not own a car or a cell phone. He bicycled nearly everywhere he needed to go, rain or shine. A memorial service is tentatively planned for August 27th in Baltimore. Donations in his memory can be made to Physicians for Social Responsibility, Final Exit Network or Veterans For Peace.
Remember to Live in LOVE; and let love live in you, through you, around you, and AS you!
 We Remember Dallas Police Victims, Philando Castile and Alton Sterling
 
We cannot live w/ on average an excess of 1,000 lives taken each year, mostly because of fearful law enforcement. Congress has bills awaiting our ACTION.
 

Please sign my petition that addresses the President and Attorney General!!!
 September 22, 1927 – June 9, 2016
MUPJ Stands with Victims of Pulse – Orlando.
MUPJ pauses to offer condolences to the many involved in the tragedies of what transpired at Pulse Night Club in Orlando, Fl.  We must enforce commonsense laws to protect our citizens: background checks, automatic assault  rifle ban to curb these instances. Elect congresspersons who'll have your best interest. We must stand up in love against hate. 
Orlando Nightclub Shooting: What We Know. Here is what we know about the victims: