New Warheads to Windmills 2023 Summary Report is out now!


Updates in the 05/06/2023 edition:
 New Warheads to Windmills report National, climate, divestment, Legislation, Norton Bill, TPNW, warheads to windmills: New Warheads to Windmills report By Tim Wallis on May 06, 2023, 08:13 am
A graphical, easy to read summary of the 2023 Warheads to Windmills: Preventing Climate Catastrophe and Nuclear War report is out now! You can read and download it for free here and order multiple copies of the color printed version (US letter size booklet) here. To join in the discussion about addressing these twin existential threats, register here for the Warheads to Windmills webinar taking place Sunday, May 7, 4pm EDT.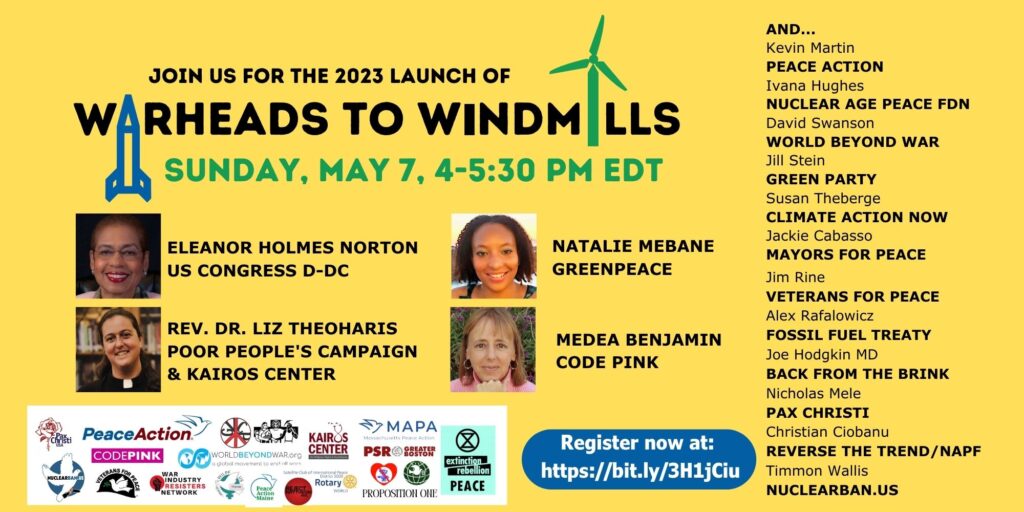 The post New Warheads to Windmills report appeared first on NuclearBan.US.
Read in browser »




 Other Recent Articles:Warheads to Windmills webinar
Norton Bill 2023 now out!
Rep. Salinas adds another ICAN Pledge in Congress
Appeasement: Time for a reassessment
ICAN Forum Oslo view this email in your browserCopyright © 2023 nuclearban.us, All rights reserved.
You are receiving this email because you opted in via our website.

Our mailing address is:
nuclearban.us59 Gleason RoadNorthampton, Ma 01060Add us to your address book

Want to change how you receive these emails?
You can update your preferences or unsubscribe from this list.


—
Tony Langbehn