As March comes to a close, so does Women's History Month, a time to honor the contributions of women throughout history and celebrate the progress made towards gender equality. This month serves as a reminder of the remarkable achievements of women who have broken barriers and made significant strides in various fields. We're closing out Women's History Month by highlighting trans women for transgender visibility week. Transgender Visibility Week provides an opportunity to raise awareness about the challenges that trans women face and to celebrate their resilience and strength in the face of discrimination and violence. Let us continue to recognize and celebrate the achievements of women throughout the year, and work towards a more inclusive and equitable future for all.
In Maryland, the legislative session is in full swing, with only two weeks left until the General Assembly adjourns. Some of our priority bills didn't make it through crossover but we'll fight harder for them next year and through other avenues of advocacy. One thing we can do is to focus on our priority bills that have already made it through one chamber and are now being considered by the other chamber. It's also important to keep the lines of communication open with our elected representatives and let them know what issues matter to us.
Read on for more detailed updates on which of our priority bills still have a chance, events, actions to take and news you can use!
In solidarity, The Progressive Maryland Team


 
Here's what's in today's memo:Legislative updates: priority bill updates PM task forces & issue campaigns: HCTF, EJTF, & RCTF updatesLocal chapter updates: Harford & Prince George's County Events from Allies: People's Action movie premiere, Trans Day of Visibility eventState & National news Legislative Updates:Click here to visit the MGA website and keep track of all active Maryland bills, their action status, top sponsors, and top committees.  Update on some of our priority bills we're supporting: While there have been a slew of disappointments, such as the failure to decriminalize drug paraphernalia for personal use , pass the Reclaim Renewable Energy Act, and pass the De Minimis Quantity Bill, there have also been some wins. Both the Senate and House have voted to fully fund the Prescription Drug Affordability Board which will take action to lower Rx spending as well as the passage of the Hospital Reimbursement Bill which will reimburse patients wrongfully charged by hospitals. As for the Cannabis Reform bill, we're still pushing for an amendment to the bill that will add Labor Peace Agreements to ensure equitable implementation of cannabis legalization.  Despite setbacks, we remain excited and motivated for next month, hopeful that we will celebrate more victories for the legislative session. It's important to note that the session ends on April 10th, and we must continue to advocate for the changes we want to see in our communities. Let's continue to push for progress and make our voices heard. ACTIONS TO TAKE NOW Legislators took the emergency rental assistance program (ERA) out of the State Budget and we need them to put it back into the budget. The ERA program helps over a hundred-thousand families in our State who are struggling to pay their rent avoid eviction. With rents skyrocketing and evictions returning to pre-pandemic levels, we need this program to continue.  We've created an easy tool for you to quickly send an email urging our government to do the right thing and continue to fund the ERA program. Tell The Governor to Keep Marylanders Housed! Read our full statement on rental assistance here.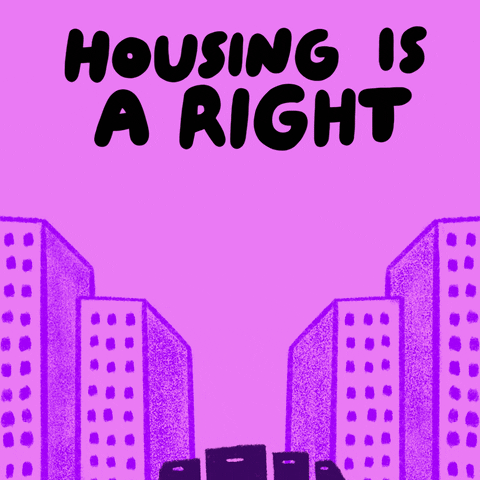 Updates: PM Task Forces & Issue Campaigns Environmental Justice Task ForceEnvironmentalists and Reclaim Renewable Energy Act (RREA) Coalition members submitted hundreds of heartfelt in person and written testimony in support of the RREA bill that would remove ratepayer-subsidized pollution, deleting factory farm waste, woody biogas and trash incineration from the states clean energy program. This would have removed the financial incentives for dirty energy, but back door deals caused the bill to die on crossover day ( March 20th). Join our next discussion in south Baltimore as we discuss our next strategy to stop the Baltimore trash incinerator.  Join SirJames and the Environmental Justice Task Force on Saturday April 15 3p-4:30p at the Enoch Pratt Library Brooklyn Park Branch address: 300 E Patapsco Ave, Baltimore, MD 21225Healthcare For All:We're on our way to some significant victories this session! Both the Senate and House have voted to fully fund the Prescription Drug Affordability Board and give it authority to start setting upper payment limits on what the state of Maryland  and our local governments are spending on drug purchases. We pushed for and won passage of the Hospital Reimbursement bill which will set up the  process for patients who were wrongfully charged to get reimbursed. The Access to Care Act which is so important to our immigrant neighbors and family members (it removes immigration status as a barrier to purchasing health policies from the Maryland Health Exchange) still needs action in the Senate. Please call (410) 841-3677 to urge Chair Melony Griffith to hold a hearing and secure a yes vote on this bill, which resoundingly passed in the full House. Leave a message if no one is staffing the line. And there's still time to email your legislators to urge them to vote on any and all of these health bills that come to a full vote in the House and Senate. To learn more and to get involved in our healthcare issues campaign, please contact Patty.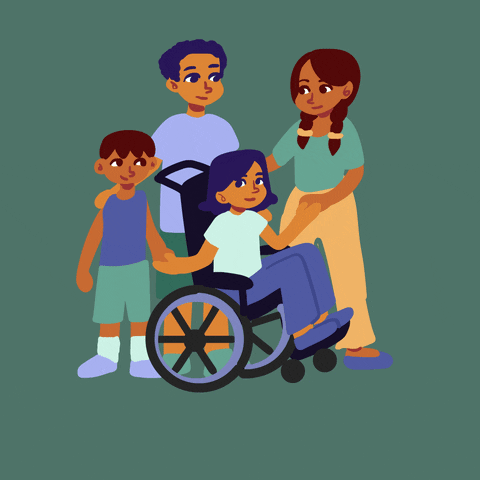 Returning Citizens TaskforceApril is Second Chance Month and events related to that were the centerpiece of our biweekly meeting.  Participants heard a detailed report on the 3rd Annual National Returning Citizens Conference which will be held on Friday, April 28 in Fort Worth, Texas –this is a hybrid event and all are encouraged to attend (meeting details, including zoom link, are forthcoming). RCTF has participated in the prior conferences and we hope to have broad participation at this one, especially at the four breakout sessions: a) Faith & Family, b) Jobs & Housing, c) Technology Access, d) Organizing for College Students. We also discussed attending the Rich Soul, Poor Man presentation by Jimmy Jenkins at the First Baptist Church of Glenarden on April 21 and April 22 as part of Second Chance Month.  Looking ahead, we are planning to table at the Samuel P. Massie Community Day event on Saturday, May 20th in Forestville. In addition, we heard about continuing outreach and research as we sek to move forward with our housing initiatives. Our next meeting will be held on Tuesday, April 4.  For a zoom link or more information about the above

listed events, please contact Kurt.




 Local Chapter Updates:Progressive Harford County Progressive Harford County is teaming up with the Harford County Democratic Club and the Harford County Democratic Central Committee to host a mixer! The mixer will be on April 23 from 1-4 p.m. at TB3 Bar & Grill. Come out and meet Democrats of all stripes in Harford County. This mixer is about Democrats coming together and getting to know each other. Anyone who wants to get active with Democratic politics in Harford is welcome to attend. The host organizations will give a short presentation at 2 p.m. on specific ways to get involved. Food and beverages will be available for purchase. Click here to attend. Help with turnout for the Harford County Democratic Mixer. Progressive Harford is having several phone banks to register people to attend. Our next phone bank is March 29 from 6-8 p.m. on Zoom. Phone bankers of all levels are encouraged to attend. Scripts and calling lists will be provided. Phone banking training will also be provided beforehand. Register Here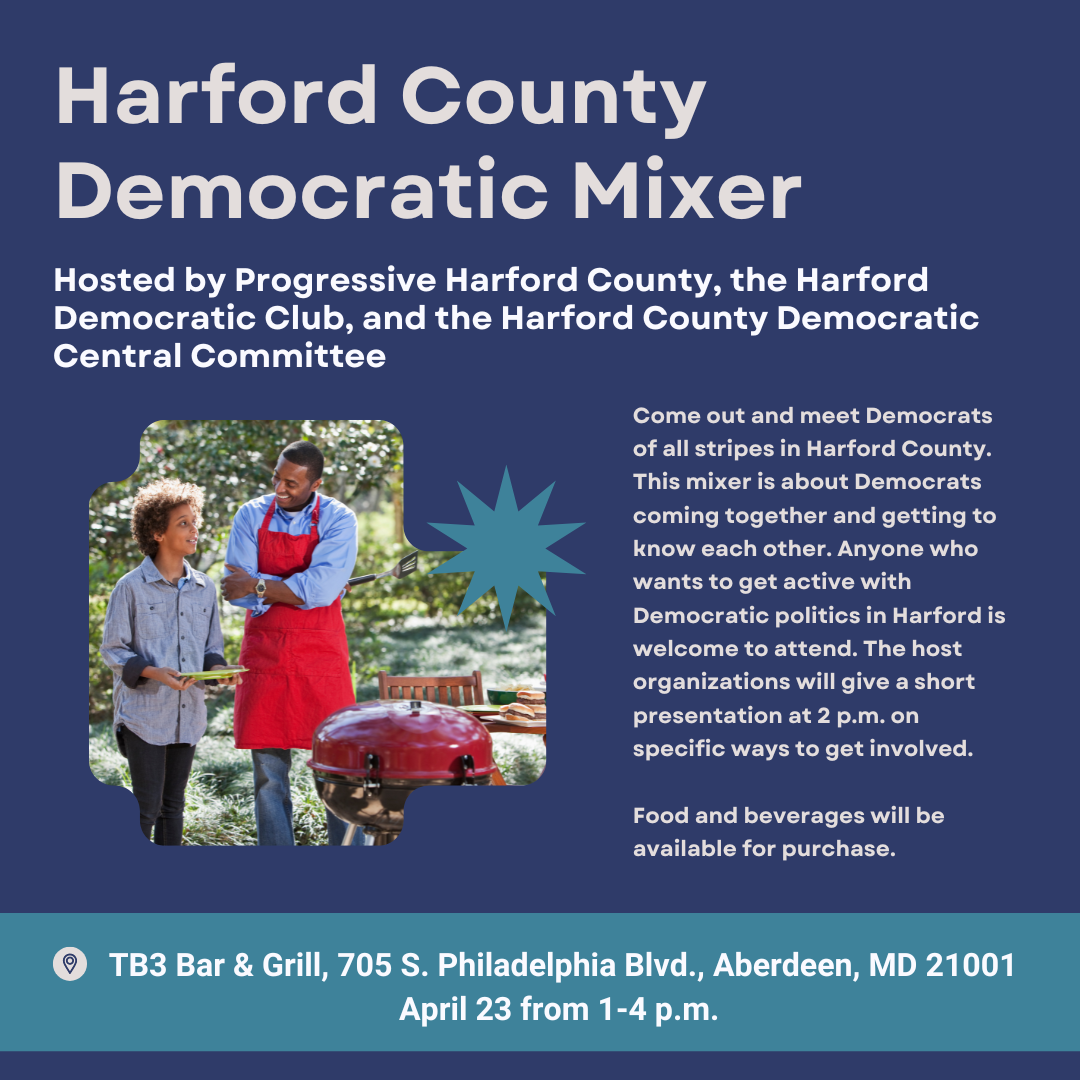 Progressive Prince George's AROS-PG CALLS TO ACTION: Please SIGN and share this petition to urge the County Executive, Angela D Alsobrooks, to undertake an open, transparent and community involved process for the recruitment and hiring of the new PGCPS CEO.CALL the County Executive's Office @ 301-952-4131 to let her and her staff know how you feel about the community being shut out of the recruitment and hiring process for the new PGCPS CEO and how unfair and unsustainable that is for the growth and strength of our public school system in Prince George's County. Make your voice heard! JOIN US at our Progressive Prince George's: AROS Community Meeting on the PGCPS CEO issue, tentatively scheduled for April 22nd via Zoom, from 4-6 p.m. Please REGISTER to receive the Zoom link and share the registration link with neighbors, family, coworkers and friends.REGISTER for Throwdown Thursday this week to share in the work of spreading the news to the community about the PGCPS CEO campaign and ways they can get involved. The more the merrier! We will be accomplishing phone and door knocking outreach on this very important issue and event several times a week for the next four weeks. Please register to phone bank by clicking the link above or contact Dev, the Prince George's County organizer, to learn more and get involved! EVENTS FROM ALLIES:On Wednesday, March 29th, join leading health care reform advocates for the D.C. premiere of a provocative look at the profit-driven practices that are hurting patients, providers and communities: AMERICAN HOSPITALS – HEALING A BROKEN SYSTEM. Click here for more information!  On Friday, March 31st, Trans Maryland & Baltimore Safe Haven invite you to join us in Annapolis for Transgender Day of Visibility (TDoV). Proclamations in honor of TDoV will be read on the House and Senate floor by members of the LGBTQIA+ Caucus of the Maryland General Assembly, and we will visit our Senate and Delegate offices to talk about the issues important to us. Click here for more information! State and National News:We have a link to the new administration's Transition Report. You can contrast the Moore-Miller administration's wish list — excuse us, goals list — with how much they'll be getting from two legislative chambers that may be making a tough transition from the Hogan era — difficulty taking "yes" for an answer, jealously guarding their prerogatives and inefficient methods. And we have more from around the states and the DC scene. Read on for News You Can Use. Progressive Maryland BlogSpace:We value creating space for our members to express their thoughts on any issues related to our campaigns. Have an idea for a blog post? You can submit writing, film, graphic design, etc. to be published on our website to the blog moderator Woody.New Today –  "How's he doing?" Gov. Moore's over/under as Assembly close approachesCrossroads encounter for progressive bills. Who loses? News You Can UseBill logjam demands opening — citizens need to prod Assembly membersMoore's minions, Assembly crossover day sharpen the timelineSchool roofs provide baseline for solar energy solutions>>Read more on the homepage of progressivemaryland.org Click here to view this memo in your web browser. Donate To Progressive Maryland 

Don't forget to follow us on social media! Progressive Maryland
P.O. Box 6988
Largo, MD 20792
United States