Your guide to the Nobel Peace Prize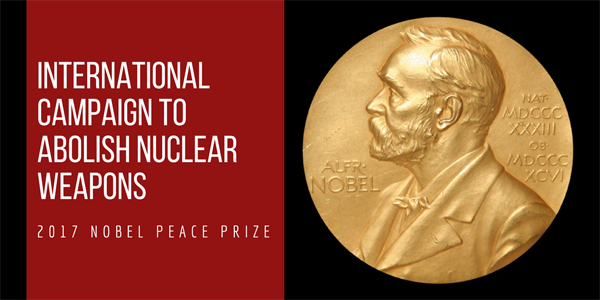 Dear Paulette,

You're invited! On Sunday, December 10, the Nobel Committee will award the 2017 Nobel Peace Prize to the International Campaign to Abolish Nuclear Weapons (ICAN). ICAN received the prize for raising awareness on the health and humanitarian impacts of nuclear weapons and achieving the first-ever U.N. treaty that categorically bans these inhumane weapons.

PSR is a proud partner of ICAN. Here's your guide to the Nobel Peace Prize:

Catch the ceremony live, or watch a recording. Watch the award ceremony live here on December 10 at 7 a.m. EST. You can also watch the recording here. Beatrice Fihn, ICAN Executive Director, and Setsuko Thurlow, survivor of the Hiroshima bombing, will accept the award on behalf of ICAN. You won't want to miss their stirring speeches.

A behind-the-scenes view. Medical students from Student PSR are attending the ceremonies in Oslo. They will "host" the Nobel Peace Prize events for the PSR network by sharing live updates on social media.

Follow PSR Security on Twitter and like our Facebook page for commentary, photos, and video of Nobel Peace Prize events, including the award ceremony, torchlight procession, Nobel Peace Prize Concert, and ICAN gatherings. Join us! Share your questions and comments by tweeting at us or posting a comment on Facebook.

Take action! The Nobel Peace Prize invigorates our efforts to pressure the U.S. government to eliminate nuclear weapons. Sign PSR's petition to members of Congress to show that their constituents are in solidarity with ICAN's mission to pursue a nuclear weapons-free world.

Attend a local celebration:

Thank you for being part of PSR and ICAN at this critical moment in disarmament history. With your support, we're making a world without nuclear weapons possible.
Thank you for your support!

Martin Fleck
Security Program Director