Join us on Thursday, March 7 at 1:00pm Eastern Time to set the record straight about why NATO is not a peace-keeping organization.
What: Free Webinar: No to NATO, Yes to Peace
When: Thursday, March 7, 1:00pm-2:00pm Eastern Time (GMT-05:00)
Where: Your computer or telephone!
RSVP for instructions on how to join.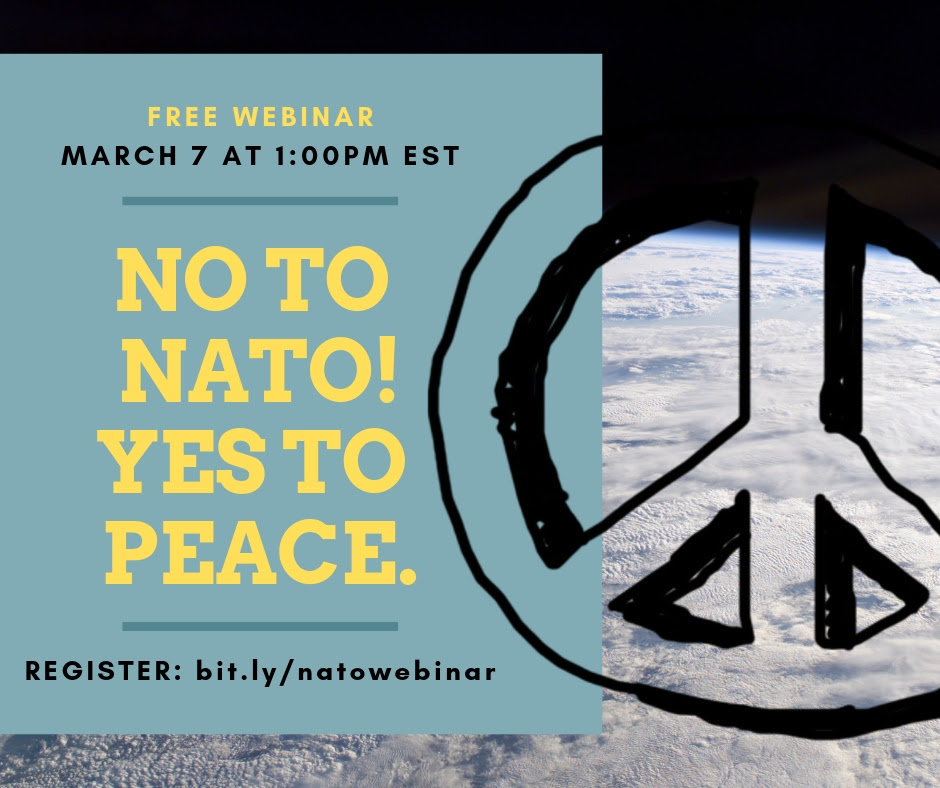 The mainstream media paints a false picture that NATO promotes peace, but we know that it has repeatedly violated international law, and bombed numerous countries, including Serbia, Afghanistan, Pakistan, Libya, Bosnia and Herzegovina, and Kosovo.
Don't take my word for it; hear it directly from our panelists, who have first-hand experience with NATO:
Ana Maria Gower is a Serbian-British mixed media artist and a survivor of the NATO bombings of Yugoslavia and its capital – Belgrade. Being a 10-year-old in a war zone, she witnessed the destruction caused by NATO involvement both during the conflict and for years after.
Jovanni Reyes enlisted in the U.S. Army in 1993 and deployed to the Balkans in 1996 as part of NATO's first ever military intervention, which culminated in the dismemberment of Yugoslavia into six statelets. Jovanni is now the member coordinator of About Face: Veterans Against the War.
Kristine Karch is the Co-Chair of the No to War/No to NATO Network, based in Europe. She has organized countless No to NATO panels, counter-summits, and demonstrations to raise awareness about NATO's destructive impact and the EU's cooperation with it.
Don't miss this informative conversation with Ana, Jovanni, and Kristine. RSVP to join us.
P.S. I hope to meet you in person at the No to NATO – Yes to Peace Fest on April 3-4 in Washington, DC, to unwelcome the arrival of the largest military alliance in the world.